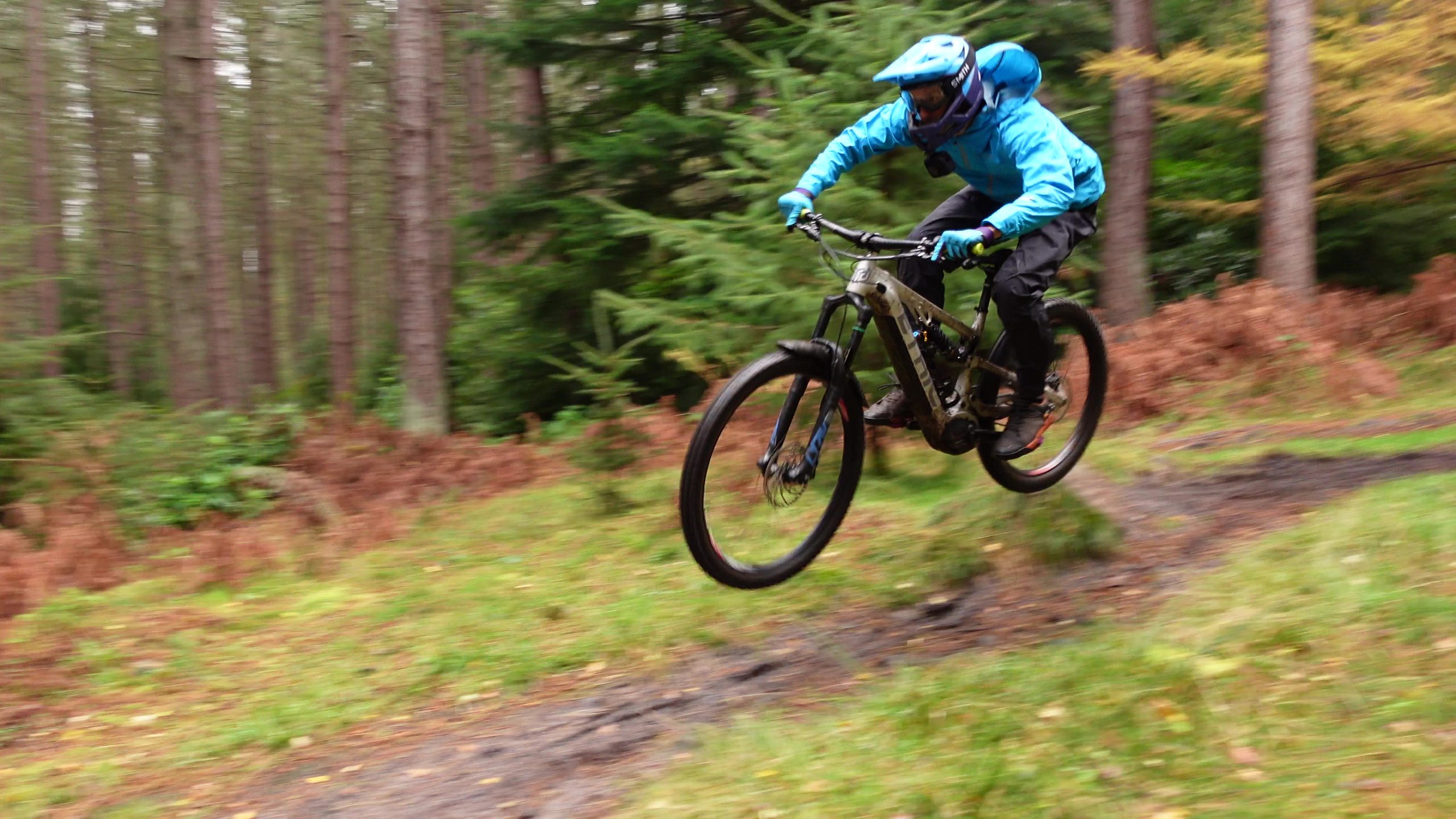 This is the story of how Bird's first E-Bike was developed.
It all started in 2019; like many things at Bird, this story is customer driven. We had been getting enquiries about E-bikes for a couple of years, but in 2019 we were being asked more and more, both by email and face to face by existing customers who dropped in to visit us.
This resulted in several internal discussions at Bird. It seemed that E-bikes were gaining popularity; the project had an air of inevitability about it, but what sort of E-bike should we build? At Bird we like to look forwards and jump ahead if possible, so that after a bike is developed and launched (about a year pre-covid) it is still ahead of the curve. We had 2 thoughts on the possible direction of the project:
Build a "Lite" E-bike that used a lower power, lighter motor with smaller battery for a bit of assistance when you wanted it, but otherwise didn't feel too different to a regular, "acoustic" MTB.
Build a "full phat" E-bike with a large capacity battery and powerful motor that would provide the most amount of assisted riding time possible, recognising that you'd always need the motor on to counteract the extra weight of the system.
For those who don't know me (Dan), when riding my motto is "smiles over miles". I've never been about racking up lots of distance, but I LOVE riding downhill. Specifically steep, technical, natural trails, mixed with faster flow sections. I can jump reasonable size gaps, but I'm not a big sender by any stretch of the imagination. I'll often find a feature on a trail and session it a few times until it feels "right" and I've explored all the line choices that I can see. When it comes to riding back up, this is a means to an end for me – I'll slowly winch back up with my riding buddies and take the opportunity to have a chat on the way.
At this point, it should be obvious that "option 2" was what I wanted to build from the start, but I was still curious about the possibilities of both types of E-bikes, so I started my research on what was out there that we could use. I reached out to Bosch, who politely informed me that they were not taking on any new customers due to the growth in their E-bike products (I asked them again a year later and was met with the same reply). Ok, no Bosch motors then. We already had a Shimano OE account which gave me access to the technical data for the E8000 motor and parts, so I did some early concept models to investigate how to integrate the E8000 motor and battery into the frame.
For our "lite" concept I reached out to Fazua, who produce an interesting E-bike drive system that consists of a removable motor and battery that connects into a special bottom bracket housing. The Fazua system is capable of running both with and without the motor and battery, and the frame weight without the E-bike parts installed isn't much more than a regular bike. The motor and battery are much smaller and lighter than a typical E-bike system too, so the overall system weight is lower.
Concept Evaluation
Once I had 3D models from Shimano and Fazua, I built some models of how each system might look in one of our frames.
You'll see from the image above that the Fazua system forces you to have a battery that is inline with the bottom bracket. This is due to the unique interface between the motor and BB housing that lets the motor and battery be removed while leaving the BB housing and cranks behind, so the bike can be ridden without the motor and battery.
One of the most important areas to consider when designing a full suspension frame is the BB and main pivot region. Here you typically have the rear tyre, main pivot and chainring all competing for space. Adding a motor further complicates matters due to the increased size compared to an unassisted bottom bracket shell. As you can see in the image above, adding the Fazua motor leaves adequate tyre clearance, which means that the chainstay length also does not have to grow to fit the motor into the frame (more on that later). There was a clash with the main pivot however, as there was with the chainstay yoke, but both of these could be designed around if needed.
Next, onto the Shimano system. Here you can see that the motor and battery are both bigger than the Fazua system, and the motor mount also causes more clearance problems due to the increased size. The internal battery has more flexibility in how it is positioned, and ultimately offers more space inside the front triangle for both the shock and a water bottle.
Aeris 145 concept layout with Shimano E8000 motor and 8035 504wh battery
After looking at the Shimano system for some time I came to the conclusion that the main pivot definitely needs repositioning now, and the tyre clearance also needs improving.
When comparing the two systems against each other I realised that whichever system we decided to run that there would be some important design choices to make to optimise the performance and geometry. At first the Fazua system looked like the easiest way to achieve an E-bike that was as close as possible to our existing range of bikes in terms of geometry, but we'd have to sacrifice the ability to carry a water bottle, and I had my doubts on whether the smaller frames would work with a piggyback shock at all due to the battery position. The Shimano system was compatible with a piggyback shock and water bottle, but would force me to move the main pivot and possibly lengthen the chainstays to improve the tyre clearance.
EP8
With almost perfect timing for the development of our E-bike, Shimano released the design package for the new EP800 motor and larger capacity 8036 battery with 630wh of capacity. The EP8 was lighter and offered improved performance compared to the E8000 that I had tested, and we agreed that our first E-bike should launch with this new motor. During 2019 we had also seen sales of 29″ wheeled frames overtake those of 27.5″ frames, so it made sense to develop our E-bike frame based on 29″ wheels too. I started putting together the 3D model of what would eventually become the Ethic.
You'll hear geometry talked about a lot in the mountain bike world. In my view, frame geometry is the single most important factor to consider when designing a bike. A bike with good geometry can always have average to good parts bolted on and it will ride well. A bike with bad geometry will always be terrible, even with the best components in the world fitted to it. The same applies to rear suspension design to a degree; A bike with great geometry and average rear suspension can still be a good bike to ride. A bike with poor geometry but excellent rear suspension will not ride well, ever. There is no compensation available for poor frame geometry, which is why it is the most important factor in mountain bike design.
One of the most important factors in how a bike feels to ride is the chainstay length (not to be confused with rear centre, which is related but not exactly the same, unless your chainstay is perfectly horizontal) – this is the distance between the bottom bracket axle and the rear axle. Generally, a bike with short chainstays feels easier to corner and is more playful. Bikes with longer chainstays can feel more stable but also can feel less manoeuvrable. As a designer I'll always try to keep the chainstay as short as possible for a given wheel size so that the bike feels nimble and rewarding to throw into tight corners.
After doing a lot of research into E-bikes offered by other brands, I noticed that the chainstays were typically a lot longer (460mm or longer!) than brands offered on their non-electric bikes. I observed that a few brands used a smaller rear wheel with a 29″ front in order to keep their chainstay lengths under control. This didn't seem like a design choice, but more of a factor that was forced on the designer due to the choice of wheel size and the motor housing. I knew that I didn't want to go down this path. There must be another solution available.
Looking at the initial 29″ EP8 frame layout on my computer monitors, I knew that the main pivot near the motor had to move. The question was where? In order to provide appropriate levels of anti-squat in the rear suspension, I could only move the pivot backwards, towards the rear tyre. I couldn't move the pivot forwards to the presence of the motor. Moving the pivot backwards meant having a very small (and pointless) chainstay yoke that wouldn't provide much in the way of rear triangle stiffness, unless I moved the rear tyre backwards as well, which would increase the chainstay length (see above).
I really didn't want to end up with a chainstay that was substantially longer than our "acoustic" bikes. I wouldn't choose to make the chainstay 460mm on any other bike, so why should I do it here? Then I saw the solution. The whole main pivot and chainstay yoke needed to move upwards, well out of the way of the motor housing. This would give me the clearance to run the rear tyre as close as possible to the motor housing (while still leaving room for mud), as well as running a "proper" chainstay yoke to keep the stiffness high. The elevated main pivot (I consider this to be a mid pivot rather than a high pivot layout) needs an idler wheel to run the chain over in order to generate sensible levels of anti-squat.
The benefits of a mid pivot idler suspension system actually go much further than having a full-size E-bike motor with a sensible chainstay length. The main pivot location generates more frame anti-squat, so needs less force from the chain to prevent squat under acceleration. This results in less pedal kickback during suspension compression compared to a non-idler design. The overall axle path is also more rearward which reduces the shortening of the wheelbase during suspension compression (the fork is angled rearward on all bikes, so the wheelbase shortens during high compressions such as landings and g-outs). The other benefit is that the anti-squat can be adjusted simply by changing the number of teeth on the idler wheel. A larger idler wheel reduces the anti-squat, while a smaller one increases it. This is due to the chain line moving relative to the virtual pivot. As a designer it is rare to have this freedom – usually when you adjust the anti squat values of the frame, you then have to adjust something else to achieve the same rear wheel travel or shock rising rate. With an idler wheel you can adjust the anti squat completely independently of the rear wheel path or shock rate.
I initially designed the Ethic around a 27.5″ x 2.8″ rear wheel, which when combined with the mid pivot layout, results in a 440mm chainstay in the mullet setup, which matches the current Bird AM9 chainstay length (I could have hit a 435mm chainstay if I limited the rear tyre to 27.5″ x 2.6″). Both me and Ben prefer riding full 29″ bikes these days, so we also wanted to have the ability to run a full 29″ setup as well. I worked out that by using flip chips in the chainstays, this was achievable with a resulting chainstay length of 448mm in the full 29″ setup. On paper the bottom bracket height will remain the same in both settings, but in the real world the 2.8″ tyre will most likely be run at lower tyre pressures which will lower the BB slightly compared to the 29″ back wheel. Over the last few months I've been riding both mullet and 29″ wheels; I'm still not sure which I prefer.
Prototype testing
Once the prototype designs were finished and handed over to the factory in Taiwan (December 2020), It was a race to see whether the frames or E-bike parts from Shimano arrived first. As the frame delivery date approached in August 2021, I was informed by our Shimano rep that the 2 most crucial parts (motor and battery) wouldn't be here until December 2021 (I had ordered these in October 2020, before I had finished the detail drawings and sent them to the factory). I quickly sourced a pair of 8035L batteries which are the same size as the 8036, but with lower capacity (504 vs 630wh), and begged our Shimano rep to find me a pair of motors. Amazingly he came through and the motors arrived mere days before the frames. Thank you Francis!
Building the prototypes was a new experience involving parts I had never before associated with mountain bikes – wires, displays, switches, battery mounts, charging parts and a lovely EP8 motor. The 3D printers in the office were running 24/7 to produce all the plastic parts on the frame (chain guides, skid plate and battery armour). Then I had to plug it into my laptop and program it. Special thanks go to Richard from Shimano tech support for helping me out late on Friday afternoons (I always seem to have issues on a Friday) so that I could configure the bike for the first test ride. Finally it was all together and powered up. I was visiting my parents in Cheshire so a quick test on the road would have to do before venturing off road. I climbed aboard and was away!
The first ride lasted an almighty 30 seconds before the idler axle failed, sending parts of the axle, idler wheel and chain guide bouncing down the road with a very sad Dan left wondering what had happened. It turns out that I had miscalculated the forces on the idler axle (always double check your numbers, folks) and it really wasn't a surprise that it had failed as soon as it had. More friends to the rescue – this time it was Clark from Bennachie Bike Bothy who knew someone who specialised in machining ultra high strength steels to replace the failed part. At the same time I developed 2 new versions of the axle – one that would work on the prototype frames but without needing ultra high strength steels (these axles are still in use today) as well as an even stronger version for the production frames.
A week later, I had the replacement axles fitted and was ready to ride. Multiple car park tests had shown this axle was good to take off road, so we headed to one of my favourite riding spots in the Surrey hills for the first proper riding session on the bike. As soon as I got onto a proper mountain bike trail I started to get a feel for the bike. It felt planted, very planted. The back end was suspiciously quiet and smooth, and I was easily keeping my much faster riding buddy in sight on the downhills. Then disaster struck (not with the bike this time). On our 2nd run the pair of us riding up front pulled over to let our other buddies catch up with us. A few minutes passed, then a few more. Something wasn't right. A few minutes later he arrived with what only could be described as a smashed-up face. He was clearly concussed and was talking nonsense, repeating the same 3 questions over and over. I drove us home in his van while he continued to repeat himself, and later his wife came to take him to A&E for a checkup. Still, a successful test for the bike, if a short one. Looking after your mates comes first.
Over the next few months, I rode the Ethic a lot, a lot more than I would usually ride. Coed y Brenin, Dyfi, Bikepark Wales, a trip to Jedi aka Tony Doyle, as well as our more regular riding round the Surrey Hills and Berkshire area. For me the E-bike is a great enabler to get out and ride more and really brings the fun back into riding. Not to say that riding normal bikes isn't fun either, but I'm definitely more willing to get out and ride the Ethic than any other bike available to me.
Social Q&A
What does it weigh?
As built it's around the 25kg mark with pedals. That's with Zebs and Rimpact Pro tyre inserts. I'd expect production builds to come out somewhere between 24kg and 26kg depending on the parts fitted.
How does it ride?
Exactly as intended. It's always nice when a bike feels how I wanted to on the trails. It's a bike made for fast and steep downhill trails, and it does those very well indeed. The rear suspension feels exceptionally smooth, which I think is a combination of the main pivot location and the weight of the front triangle. What surprised me was how good the bike was at everything else – it makes flatish XC trails great fun due to the speed you can enter and exit corners, and it positively encourages you to try technical climbs that you just wouldn't dare to try on a regular bike. I'll regularly get to the top of a climb out of breath due to how the bike encourages you to pedal harder. I'm pleased to say that the reasonably sized (short for an Ebike, normal for a regular bike) chainstay length makes the bike feel eager to change direction. Ebikes are fun, and this one suits my riding style nicely.
Can they be run as 27.5 front and rear?
It's designed around either mullet or full 29″. Technically you probably could run a 27.5″ front wheel, so long as it had a 200mm fork as well (*disclaimer* I haven't actually worked it out but it's probably not far off)
Is there a price point yet?
Right now it's impossible to give an accurate idea on pricing due to the volatility in component supply and prices. Due to our direct sale model you can be assured that the Ethic will be great value compared to the competition, as well as having our customisation and backed up by our award-winning customer service.
Will you be doing a pre-order option?
Yes, as soon as we are confident in all the delivery dates we'll open up pre-orders.
How durable is the Idler wheel and bearing?
The idler wheel and axle has gone through multiple design changes during testing. The final design uses a stainless steel jockey wheel, mounted to a thick stainless steel axle that runs on needle roller bearings on the drive side and a deep groove bearing on the non drive side. The bearings run in a oil bath that gets refreshed during the yearly service. There's also a lip seal on the drive side to keep the dirt out and the oil in. All the seals and bearings are off the shelf items that can be easily sourced and replaced when needed. We'll be keeping stock of the jockey wheels for service replacement; the jockey wheel will need replacing when you replace your cassette and chain.
Do you really need the lower chain guide?
Yes, the lower guide serves 3 functions:
It makes sure the chain is nicely wrapped around the chainring.
It keeps the chain on the chainring when riding over rough terrain and also prevents the chain from falling off if the rear wheel rotates backwards for any reason.
It brings the lower chainline up as high as possible, which reduces the chain growth on the underside of the chainstay. While this doesn't affect the pedalling character or suspension performance, it does mean that your rear derailleur cage doesn't have to move as much during suspension compression, so should result in lower wear on your rear mech.
Why is it called Ethic?
One question I see a lot whenever we post on social media is "Why didn't you call it the Bird-E?"
There are two answers to this question:
Bird-E is a terrible name for a bike and we wouldn't have called it this even if answer 2 didn't exist
There is a trademark issue with "Birdy" and we can't sell E-bikes with Bird branding. It's that simple. We did approach the trademark owner, but they were not interested in even entering into discussions with us to use the Bird brand on our E-bikes, so we can't.
But why Ethic? Because I liked it. Coming up with names is difficult because it's subjective, and many popular names are either trademarked already or the web domain is taken. When I came up with Ethic, both the web domain was available and it wasn't trademarked, so I quickly registered both while having dinner one evening and that was that. Contrary to several comments on Singletrackworld, the word Ethic (as in work ethic, design ethic, ride ethic) does not mean the same as the word Ethical, or attempt to imply that the brand is "Ethical", although of course we always strive to be an ethical company wherever we can.
Current status
I recently finished the production design package and submitted it to our fabricator in Taiwan, with the instruction to deliver the frames just before the Shimano parts arrive with us. Until last week (late November 2021) the Shimano drivetrains (I ordered 100 EP8 drivetrains back in April 2021, before I had even seen the prototype frames) were scheduled for mid-2022, and the frames were aiming to be here around the same time. Covid has impacted the Shimano drives significantly, and the current best estimate from Shimano is "sometime in 2023".
Unfortunately, that's the best information I have right now. We have frames on order, we have E-bike parts on order. We'll be launching the bike as soon as possible. I think we're all looking forward to some post Covid normality with bikes and bikes parts on more sensible lead times than we have at present. Let's raise a glass to 2024.
Dan Hodge MEng CEng