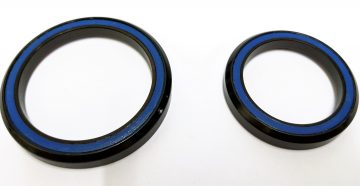 It's that time of year that we get asked about headset bearings…
All Bird bikes use ZS44 / ZS56 headsets. What does this mean?  Well, the diameter of the inside of our headtubes is 44mm at the top, and 56mm at the bottom.  The ZS part stands for "Zero Stack".  So that's the headset size sorted.
"But what bearings do I need?"  I hear you ask!  Well, here's where it gets slightly more complicated
Most of our complete bikes ship with Cane Creek 40 headsets, which use 41mm top bearings (for the 1 1/8″ steerer tube) and 52mm lower bearings (for the 1.5″ tapered steerer tube).
Standard bearings from the Cane Creek 40 are steel, whereas the Cane Creek 110 headset uses stainless steel bearings which are compatible.
Just to be absolutely clear, here are the Cane creek part numbers, type and RRP of replacement headset bearings for your Bird Bike:
| | | | |
| --- | --- | --- | --- |
| Stock Code | Outer Diameter | Series | RRP |
| CBAA0006K | 52mm (1.5″) | 40 (Steel) | £12.99 |
| CBAA0006S | 52mm (1.5″) | 110 (Stainless) | £32.99 |
| CHSS2030 | 41mm (1″1/8) | 40 (Steel) | £14.99 |
| CHSS2031 | 41mm (1″1/8) | 110 (Stainless) | £39.99 |
You can buy replacement bearings here: