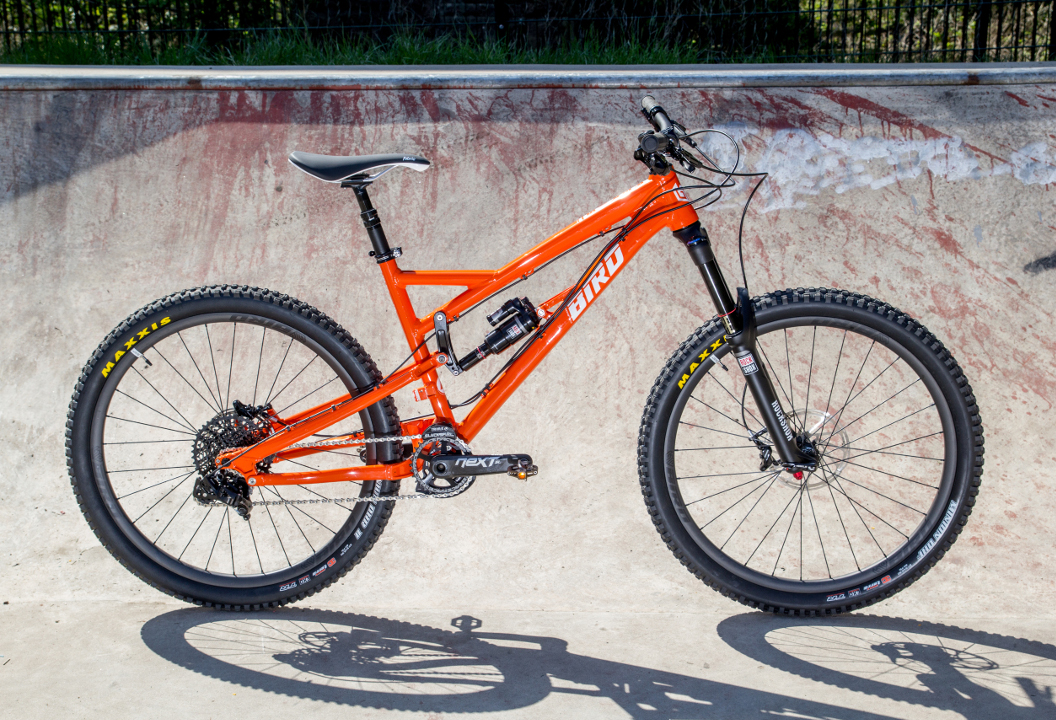 Jock, a Zero owner and local (ish) to us at Bird HQ was given an Aeris to ride as part of our user testing program. This is his story taken straight from his Facebook posts on Riding Scotland's most famous trails on a Bird Aeris.
"For the next week I'll mainly be riding one of these in Scotland. The full squish one. Oh I'm stoked to the point of wetting myself."
Day 1
"Well the first part of my 'review' is the washing part. To wash a bike is to know a bike, as they say. Somewhere. The bike is no different from any other full susser, fiddly in places, but no real hidey holes to worry an OCD mind over. Size wise it goes into my van OK, similar to my full suss, though the Zero seems a better fit, but that may be me just trying to find the best way to locate it in there."
"Tomorrow brings a couple of easy hours setting up the suspension, seat position, controls etc, but having started this morning before leaving it shouldn't take too long. Meeting up with the rest of the gang after lunch so that's when my legs, lungs and bike will get a going over. What have I let myself in for!?!"
Day 2: Glentress
"Just in, around 8hrs riding with some lunch thrown in with this motley crew who led me round, Hydro Electric Bikers, the first impressions are, well played sirs. Bird, take a bow, you have made one fantastic bike."
"I need some time to digest the day, but this is a fantastic bike. Handling is easy, but oh so sharp. It rails the berms, takes the jumps, drops and roots of Glentress with ease and the best part, it climbs fantastically well. In 140mm mode I didn't want for anything. Switch the fork to the 120 setting and no front lift on the steep technical climbs at all. Even fully out the bike just does every thing I needed. Riding with local riders and i struck with them on every descent. Totally confidence inspiring. And all this compared to my carbon Bronson. I have 5 more days of this. Can't wait."
Day 3: Innerleithen
"So today we started at Innerleithen. This is car park and straight up."
"Long, technical in places, all steep, this is pure granny ring and climbing switch territory to the top, which for the average rider seems like forever and pretty much is.
With short sharp bursts to get up rocky steps, to loose rocky or muddy single track, to open long fire roads, the climb is draining for the best of riders. Pluses for the Aeris, power transfer to the rear is very efficient. Minus, my very average skills had a few pedal strikes over the rocky step ups.Others were getting them, a better rider than me might not, I guess I would need to practice more to avoid them. Or like I did, lift the bike over them!
On the way down it ranges from open hillside, tight single track, pedally fast to short climbs and one almighty downhill black which gets the heart racing with big drops, switchbacks, rollercoaster parts and lots of air and focus needed throughout. The Aeris was faaaast through this and had this old duffer hunting out the drops, techy sections and really attacking every line, no chicken lines taken bar one proper big drop that looked more for the full dh rigs that we saw on the trail than what we all were riding. Suffice to say we all avoided that one.
Big smiles and back to Glentress for lunch and more red and black fun.
At the end my legs were shot. But the 2×10 fitted was a god send. Round here it's invaluable, well for me anyway. There is just so much gradient. We were doing more elevation in 400ft of riding than you gain in the whole of a Swinley blue, red, blue. And we did 20 plus miles yesterday. However on the downs, all of us shattered, the Aeris just drags more out of you. I dragged myself up and threw myself down the red and blacks, just physically laughing at how much fun the bike is. Popping off lips on every feature, attacking every hairpin like it was an enduro race, powering off berms with a pump and hard pedal strokes the bike accelerates like a lunatic. This is a very active bike. I found myself deliberately attacking more difficult features, even coming off the line to attack them, dropping back onto the trail and just wanting more. I could have gone faster, no doubt, politeness and the craic prevented me from the cheeky overtakes you might do on your local trail with friends. But to find it so easy around better riders left us all very impressed.
It was the quickest bike downhill for sure. The most active and energy saving of our bunch which is a great thing to pull off in design. Why I could still attack the downs with a smile, yet be dead on the ups is bewildering. I love this bike. Today some more Glentress, then I move on to my old stomping ground in Perthshire where I'll hook up with some local enduro racers who are showing me all the new trails since I was last there. Bring it on."
"That's me done. One last red taking in spooky wood and the cracking red descent and time for some beer with family in Perthshire. Tomorrow is an evening ride in the Perthshire hills on the enduro course with some guys we met here. Shower, beer, food, that's 60 plus miles done and so am I."
Day 4: Laggan
"Quick update as today's the last day up north. Spent the final part of this trip at Laggan bike park. It's a fair bit up, similar distance to Fort William really. But rather than being a downhill park its focus is on technical riding. It has red, black and orange trails, all accessed by a fire road that gets you out of a car park which also houses a bike hire centre, toilets, showers and a little shop for drinks and snacks. This is all to be upgraded starting Monday and finishing roughly January."
"So the other important bit, the trails, what are they like? Well, technical. If you want speed, big gaps and big drops, then this isn't the place for you. If you want a technical challenge that has you riding on large rock slabs, rock outcrops rather than gardens, sheer face drops into rocks, single track with hidden drops, loamy, loose ripping trails that take you to the bottom, then this is the place for you. Their black is very much a black. There are no chicken runs on this trail. If you can't ride it you have to carry it. I'm not ashamed to say parts of it had me beat. But getting through it was satisfying, a few more runs and a lot more skill would see a clear run, perhaps.
It's set in a beautiful part of Scotland, even getting there gives you that sense of being so far from home. No matter where home may be. Harder than Glentress or Innerleithen in technical challenge, if not altitude. I really enjoyed it."